Messages

62
Reaction score

112
Location
USDA Zone

9b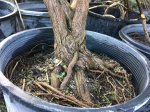 From everything I have read everywhere the general consensus is that its darn near impossible to repot a rosemary or cut off thick roots without loosing the plant.
This is extremely unfortunate as they have amazing trunks and live veins when very old. But in saying this there has to be a solution!
1.) in the picture below is a Rosemary I purchased from a local nursery (cant go wrong for 10$) the trunk is the biggest Ive ever seen on one.
My question is, the plant was obviously not grown in a pot to reach this size so it had to be harashly prunned at some point so how is this possible? Same way yamadori is collected? With extreme amounts of fertilizer soaking? The worker did not have info as far as this process goes.
2.) Being that rosemary Is a plant that comonly will put out roots if incpntact with the ground how will would it air layer? Anyone every try it?