Messages

3,669
Reaction score

4,834
USDA Zone

6ab
I'm excited about the awesome foliage on this
Chamaecyparis lawsoniana 'Wissel's Saguaro' Cypress.

​I got I think 3 different hinokis on my recent road trip to PA.
This Saguaro hinoki has the most remarkable blue green juniper foliage.
The trunk has remarkable texture for its age, and I'm betting it does not throw

juvenile foliage

after hard pruning.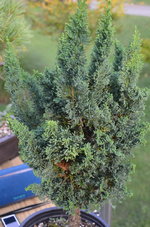 Not at all like the Sekka, but compared, has improved blue distribution throughout, on all sides of the foliage, not just underneath as does Sekka.
This is my 1st cut back, I have no idea when it was last potted up, so I'm leaving the rest on board for now.
Plus, I need to see how the branches take to wiring, so saving some sacrificial branches to practice on.
The union at the shoulder hopefully takes to wiring better than hemlock. I cleaned the moss off and around the trunk.
I don't have a good track record with cuttings, but find this cultivar worth another shot.