Messages

36
Reaction score

24
Location
Having many trees of this species growing around where I live, since the species is native here, I have thought it would make a strong tree for me to learn the basics of bonsai.
In some forum I saw a guy say he'd achieved this tree basically by cutting and growing back, little wiring apparently, in about thirty to forty years:
This tree grows quite wild by itself, with intertwining ramification, not always really a clearly defined top. This tree, this guy says, grew its new top very gradually after existing as a chopped tree in a regular pot for about fifteen years or so, about half its miniaturized life.
I have dug this, my first attempt or specimen, out of the ground three months ago. I chose it for its potential surface root thickness, nice trunk width, and nice low primary branching. I planted it in a pretty deep pot in the kind of soil where I've always seen the tree thrive, no special bonsai soil or root work yet. Only plenty of river sand which is what local growers use for drainage. I kept all the roots, all of which grow radially from the trunk and then for the time being still just go down into the soil, around the sides of the pot. I have just tried to mimic the tree's natural growing ground and root system for the time being, hoping first to develop some new/secondary branches and thickening both them and the trunk for a few years before starting to reduce the roots into a shallow pot idea. I hope to grow and/or graft some roots to polish the surface root structure, before I start to prune the roots into their final shallow-pot structure. At this point this is how much the tree has sprouted: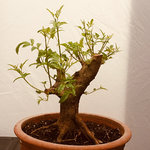 The reasoning now, if I am not badly mistaken, is mostly all about what branches to keep and stimulate; when and where to make the first cuts to ramify the projected structure, and when and where to wire... knowing this species doesn't particularly seem to like wiring.
Kind readers and forum members might have some advice. I will post a couple of drawings of my projected structure in a new message on this thread, since the software allows me only ten pictures per post...