Messages

815
Reaction score

1,488
USDA Zone

9b
Here's the progression of a shohin clump I have on the go. I air layered a cluster of 5 branches from a nursery tree during the 2020/21 growing season.
Here's the section I layered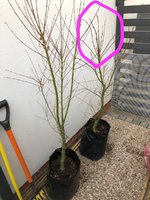 Here's the tree separated and growing nicely
Yesterday I did the initial cut back and wiring. I'll repot into a bonsai pot in spring as I don't need massive growth. I've left the middle trunk uncut as I want it to thicken slightly. I'll keep the 2 shoots on the main trunk that will form the apex and top branch short to hopefully avoid too much swelling while I let the the sacrifice grow during the season to thicken the trunk.