Messages

171
Reaction score

267
Location
USDA Zone

8b
I got this Seiju Chinese Elm cutting in July last year. It looked like this.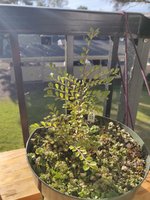 I let it grow without any trimming or root work (so I don't have any idea what the roots are like) and now it's much bigger.
The overall image hasn't changed much since about the middle of summer, but it seems like it has thickened noticeably since then. I was looking at it today and noticed these fissures all around it: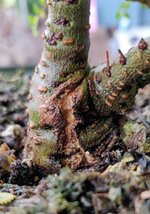 It has been healthy, and considering it's been thickening up, my best guess is it's just starting to produce the corky bark. But I've never seen one in this stage, so I would appreciate hearing from people that have.
My plan was to start working on the roots in the spring and probably put it into a bigger pot. I would love to put it in the ground, but that's not possible. I thought I'd give it at least another year before making any real changes. I attached a couple more pictures to show the lower trunk.
Any advice would also be appreciated. I'll probably be looking back at the thread
@Shibui
has about his Seijus when it comes time to make some cuts.