Messages

4,486
Reaction score

2,430
Location
USDA Zone

7A
Hey everyone,
Bought this Ficus microcarpa off of eBay for a decent price. I think it could one day make a pretty nice shohin. I am fine with the trunk size, which is an inch. What I would like to do, is place it in a training pot, not for the trunk size, but for the nebari. It's just not there. There is one root, but that's about it. I would ring bark it, but here's my problem. I think ring barking it would be great, but where I would do it is the question. The tree is very short and there is already that problem of the old root system that I believe would get in the way of the new one. I'll try to illustrate my idea.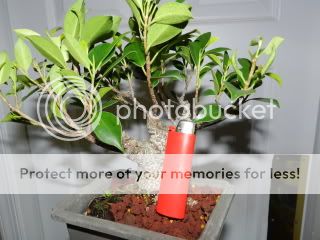 The problem:
The old root system is in red. I could ring bark it in the yellow area, but that would shorten the tree by a lot. As illustrated by the arrow, the trunk is only about 2 inches in height. I dunno what I could do due to the lack of room:
So, how would you go about making new nebari?