Messages

714
Reaction score

675
Location
USDA Zone

6b
I really love oaks and I hope to create a few decent bonsai in the coming years. I have several seedlings from acorns collected locally, but the few that I have that are at the pre-bonsai stage have been purchased in the past year from various sources. The one exception to this is my live oak that I grew from seed sprouted in 2006. This tree, which has a dedicated thread, is residing in Fl under my dad's care.
English Oak:
Two other English oaks (Quercus robur):
Scarlet oak (Quercus coccinea) with massive leaves. It remains to be seen if these can be reduced for a somewhat convincing large bonsai:
Closeup of scarlet oak trunk:
White oak (Quercus alba), purchased last month: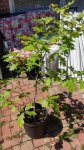 Closeup of trunk, the base looks better in person: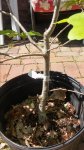 Lets see more oaks!