Messages

20,916
Reaction score

28,146
Location
USDA Zone

6.2
Perfect Pots are going to meet three requirements.
Structurally Sound, a well fired clay body.
Frost Proof, or noted if not, I will run tests.
Sitting Well, as to not sway, rock, or move when displayed.
I managed to pull about ten of these at this quality out of this firing, I will begin with them, minus the ones spoken for.
PM me offers. I am fully equipped with my new mobile device to communicate in a timely manner.
Excellent Service is My Goal.
When I hold this pot....
I remember that I own these!
I'm proud to own this.
The only thing that would make me more proud is seeing it under someone else's planting.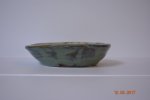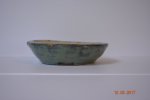 With a 3 1/2 in x 5/8in planting area, coming in right around 4in at the top, standing just one inch high table to top....
Someone's Contest Mame Could get Dressed!
A Rusty Brown line divides the Copper green patina color of the lip and sides.
The Blue Specks in the rim are echoed in the feet.
Greyish Purples Splashing out of rust brown specks make this pot fun to look at.
While it's Satin Finish and small stature can allow a tree to remain the show.
Thanks For Looking!
Sorce