Hello PBS members. As you know....its HOT. Thought I would throw some info out about dealing with extreme heat. Maybe you will find something worthwhile. Within the last two years I finally think I have gotten a handle on dealing with extreme heat and bonsai. The learning curve is steep and the sun is unforgiving.
I will just bullet point some strategies and if you would like me to expound a bit let me know!
- acclimate your bonsai to the summer heat
- soil...use the PBS mixture on repot it was created by very experienced desert bonsaists
- create micro climates
- cover your pots with burlap
- water twice a day
- misting/watering can create an environment where fungus will grow...(soil wars level of discussion about mistings effectiveness)
- air flow is important...see above.
- healthy well feed plants prior to the killing heat equals more success.
- pay attention to the PBS calendar regarding...repotting/trimming/wiring
- a Norway Spruce rarely does well at 110 f. Think about tree selection.
-70% shade screen is your friend
- radiant heat is a killer
Here are some pics of my set up:
Full sun all day.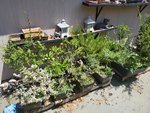 Afternoon shade.
Oleanders to reduce radiant heat off a wall.
Full shade screen burlap protection.
Yellow bell stopping radiant heat from house.
Never hurts to have a Saint in your garden (Thomas...the doves love to sit on his head)