Messages

816
Reaction score

699
Location
USDA Zone

7a
Last year this time I talked my next door neighbor into letting me dig up three old yews growing in his yard. These are probably 30-40 years old and have been neglected for ages. Since he has two hounds that chew on everything he was very happy to let me dig them even though I wanted to wait a year. So yesterday I went over lopped off the long branches on all three plants in preparation for digging up the first one. The other two I plan to let back bud in the ground and then dig them next year. Here are photos of them last spring.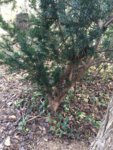 Ok, so after lunch I took two Alleve in anticipation of pain and gathered up my chainsaw, reciprocating saw, pruners, come along, shovel, and Root Slayer and headed next door. I raked back the leaves from around the tree and using my Root Slayer cut a circle around it at about 8" out. When I ran into a root too big for the Root Slayer I used the reciprocating saw with a long pruning blade to cut through them. As soon as I had made it all the way round I grabbed one of the long stems I had left and pulled the tree back sharply amd was rewarded with a loud POP. With that one little maneuver the whole tree rolled over and it was out of the hole! All told it didn't take me 30 minutes to get it out of the ground. I knocked off some loose soil and then cut the remains of the tap root flush with the bottom of the rootball.
With it out of the ground I muscled it into my wife's garden wagon and hauled it back to my yard for the second part of the job. Look for that in part two.