Messages

1,120
Reaction score

1,058
Location
USDA Zone

7a
Well, my wife decided about a month ago that the boxwood and azaleas on the north side of the house had to go. She had just pruned them and was not happy with them even though they probably are on the order of 30-40 years old. So I saw this as an opportunity to acquire yet more bonsai—he who dies with the most toys wins as the old saying goes! After reading a bunch of posts I found Harry Harringotn's advice on boxwood and he said they are best repotted in mid-summer so I hope that extends to digging them as well as my wife has the landscapers coming in mid-September to renovate. Here are some shots of the line of bushes and a couple individuals I decided to save from here depredation.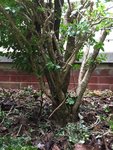 After more research on the internet including here, I decided that since these had recently been pruned and were already pushing new growth I didn't want to completely bare root them. Instead I decided to go with diggiing a large amount of the fibrous roots at their bases and pot them up that way until a better time for more root work. I did however go in with my tree loppers and cut them back even more leaving only a little greenery on each live stem. I sealed the cut ends and then started gathering my tools.
Since boxwood are fairly shallow rooted and pretty fibrous I decided to just get out my reciprocating saw and my Root Assassin shovel. I already had a 17x17" wooden box and a 13" diameter plastic pot, and my pumice and haydite mix ready to go. It took less than an hour to circle the roots with the saw and cut through a couple large lateral roots with the Root Asassin and they were out of the ground. I used my root hook to scrape the loose soil from the top and sides of the root ball then potted them up. After moving them to the shady side of the driveway I gave them a good watering and have been misting the foliage several times a day. So far the new growth that had already popped out hasn't shown even the slightest sign of wilting. We'll give them a week and see how that holds up. Here are a couple photos of the results.