Messages

24,435
Reaction score

32,423
Location
USDA Zone

6.2
This new Kiln. Propane Gas Fired.
I started firing yesterday, like this with the kids open.
Then I closed it and popped the 2 near top vases. Too much thermal shock, and/or they still had water from the ash glaze.
Turn it off, vaccuum up some.
Begin again at Noon.
I left the lid cracked with a bit of shelf to keep from over heating.
Of course, this is all logged.
It worked.
This Kiln Design
is amazing, I'm glad I used it. German Design...Ahem!
Almost there.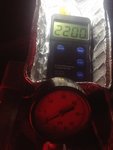 I hit my target Cone 6 or 2232 at 10:34. About 12.5 hours. Then I fired it down, and crawled back down thru 1063F. About 1130F-1000F. Since the extra large rectangles need it, I figured I'd practice.
When it was 1000F I sealed it up.
More?
More.
Last edited: