Messages

76
Reaction score

136
Location
USDA Zone

5b
Hi all, and thanks in advance for fielding my questions!
I recently lucked out and was able to pick up a dozen or so shohin pots from a thrift store. Having done my fair share of scouting for actual bonsai pots, I never assumed I would just run into a whole collection just waiting for some love.
I'm looking for some help in identifying the chops and signatures. From my limited experience with ceramics, it seems to me that about half were slip cast or made with forms, and the other half are wheel thrown or slab built. The ones that appear to be slip cast have no identifying info, but the rounds and and hand built ovals have the marks attached: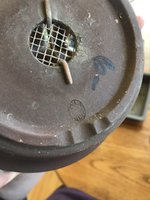 I went down the list of potters on japanesebonsaipots.net, and it appears four of the rounds are from Yamaaki (see example of a Mr. Toshio I believe). I understand Yamaaki was once the largest production in Tokoname, and they still have a sizable inventory. Beautiful little rounds with great detail on the feet!
The other three pots have me stumped. One reads simply "Fuji Japan" in English; another is a two character box chop that (I think) also translates to Fuji; and the third has a faded four character chop that I cannot match to anything. From the workmanship I believe these to be all of the same origin. Thoughts?
All in all, the craftsmanship on all of these is quite fine — thin sides, smooth finishes, crisp lines. Very grateful to add them to my collection!
Thanks again for any help you can provide in discerning the provenance of these lovely little pieces. I don't need them to be fancy or expensive, I just want to understand them and their origins a bit more. Best to all to you nuts