Messages

25,932
Reaction score

34,469
Location
USDA Zone

6.2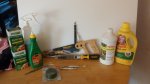 Been Shopping....
Home Depot
@GrimLore
led me on to the Stanley.
A nice 10inch smooth cut.
Found a nice flexible Dewalt pull saw too.....for my Azalea.
Michael's (crafts)
@crust
brought up exacto....I been a fool for not having one! (a healing)
@Chuah
conviced me to get a white backround.
Wow...go to Michael's..miniatures, wood carving tools, and inspiration!
Hancock Fabrics too!
Menards (first timer!)
@Adair M
convinced me to find some decent tweezers...for $5, I like em.
Got some turnbuckles to yank on some branches, they'll provide 2in of slow pull. >$2ea.
Grabbed this 100ft of 18 gauge green wire for guy wire stuff.
2 dollar spray bottle for my ass oil because every pesticide spray head sucks. (the safe ones, organic/cheap)
Fertilizer....
@Brian Van Fleet
got me hooked on fish. 5-1-1....and gentle.
The cactus drops I bought cuz I love drops...way easy! 2-7-7
@godzilla is always in the back of my head...so I keep a bottle of 101010 on hand.....water BLUE! (or blueish green due to content and settling! Lol)
And I'll be damned if old Menard didn't have my FAVORITE DROPS!
Schultz' 10-15-10 concentrate...
Real easy...good balance...micronutrients.
They weren't in the system so I almost got em free!
So far....ACE, Menards, and The Depot, are due for shrubs mid March.
I will be the first dude there, helping them put stuff away as I look at EVERYTHING.
Maybe I will just offer to sign a waiver and unload the racks!
Just wanted to start some OTB conversation...not off track betting, or like my welding friend made up, oral testicle bath,
Outside the Box!
And thanks to everyone who helps my newbie self get right! (it was Can't Get Rights Baby!)
Sorce