Messages

8
Reaction score

2
Location
USDA Zone

11b
Hello everyone,
I decided to post about some of my attempts at bonsai, looking for recommendations and to show their progression, so here is my trident maple:
I bought a trident maple cutting from a local bonsai artist, it was exploding in foliage: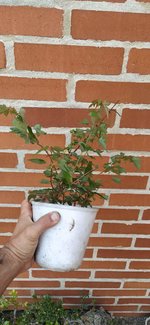 However, after a couple of weeks it fell from my window and ended up in my neighbor's roof (like a 2 meters fall). I recovered it and repot it (a very basic repot, it was one of my first) since I lost the original pot, but it quickly lost all its leaves, becoming this:
At this point it became evident that the guy that sold it to me wired this cutting really hard, and the wire left a really heavy bite mark. After some care, it recovered and leaves emerged:
I wired its branches a bit (didn't know what I was doing really, YouTube tutorials) and after a while, I removed the wires. The maple looked like this:
Finally the tree interpreted some low temps as autumn and then winter (in Colombia we don't have harsh winters like in other latitudes), and it changed colors, and then lost all its leaves. At this point, with more knowledge, I understood that it wouldn't grow too much in that pot, so I repotted again into a colander, and I put that colander in a bigger container with regular soil in order to promote escape roots (living in an apartment with no backyard is hard haha).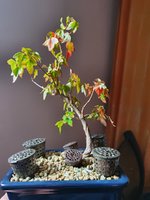 And finally, here he is now, I lowered some branches with tensors but I'm not wiring it right now, as I've read that in order to thicken its trunk, I have to just let it grow and grow, and then I'll cut to one or two buds and only then worry about branches.
What do you think? It's a tree that has suffered through many mistakes due to my lack of knowledge, but the fact that it has survived and is thriving is what makes it so special to me.
Any suggestions for next steps? Do you think the "let it just grow and grow" approach is valid here?
Thanks,