Messages

5
Reaction score

6
Location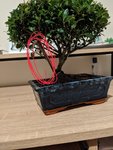 Hi all!
I'm very new to the world of Bonsai trees and have today purchased my first one, which is a Japanese Holly. After watching a few videos on how you go about pruning/wiring/caring etc, I'm left with the question of whether or not I'd trim one of the main branches near the base? It seems to stem off of the trunk (See picture attached), right at the base. From what I've seen, the goal is to have the trunk prominent and I'm not sure this is achievable with this branching off so low.
Does anyone have any suggestions? I appreciate this is probably a very novice question (Sorry if that's the case). My end goal is to try and give this a windswept/twirling appearance.
Any help on this would be massively appreciated.
Thanks!