Messages

29,780
Reaction score

40,613
Location
USDA Zone

6.2
Bidding to Start at $80 with minimum of $1 increments. Auction will end at 8PM Central Standard Time, Saturday, August 8th, 2020. I will post the end of bidding. The first Highest bid before that post wins.
Free Shipping to United States only. Cannot ship international at this time. Paypal Please.
8 3/4 x 5 5/8 x 1 1/2 inches.
A freestyle but more actual oval oval.
Nice Lip and Small Ornamentation.
A Riddle Oval.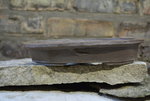 Thanks!
Sorce