Messages

924
Reaction score

1,595
Location
USDA Zone

7a
I have seen on other forums that some people are wanting a good way to keep a bonsai album digitally. There are some apps out there but the problem I have had with them is that they don't always work across platforms from mobile to desktop. I have created a bonsai album using Microsoft One Note, which has the advantage of being cloud based and will stay synched and up to date across platforms between your desktop and your mobile device. Its got some pretty cool features and is easy to set up and maintain. Lets get started!
You will want to use the same email address for One Note across all devices, it is a free download from the Microsoft and Google Play stores (I don't have Apple devices but I assume you can get it through the Apple store as well). Once you get it downloaded and opened up, you will be greeted with a welcome screen which will direct you to click it to create a notebook - the program may already have a notebook made for you with your name on it - you can use this one or create another. Once you have a notebook made, you will see a divided screen with "sections" and "Pages." Think of sections like individual folders and pages as individual files within those folders.
I used sections for the names of each tree and then pages within each section for details. You also have the ability to add tables onto the pages, so for each tree I made a "Background" page to start with a table detailing when I got the tree, where i got it, how much i paid for it, and any notes I wanted to keep in mind. You can right click in the "Pages" section to copy the contents of any page and paste it later. I saved a lot of time by building this background section, saving it to my clipboard, and pasting it into the page section of each new tree I added.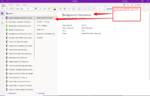 Pages are great areas for storing styling and progression pics. If you are on desktop you can just click and drag pics from your folder directly into onenote. On mobile, you can tap anywhere on the page and you have photo insert and attach options that will flash up on the bottom of your screen. Being a newbie to the hobby, I only have a few pages per tree, but you can get really creative here and detail seasonal work, possible pot matches, major stylings, etc.
One note also has an option to draw on any page using a basic set of drawing tools. This is a really cool feature in that you can right click and copy an existing picture, make a new page for editing, paste it and graffiti away to your heart's content. Don't judge me on my "possible style" - its for illustrative purposes only
The big advantage to Onenote is the ability to carry your album across all of your devices. This requires synching your albums after you update them, so don't forget this important step.
With a little time and curiosity, you could probably find many options that Onenote offers to really personalize your bonsai album and organize the way you want to. It is really great on mobile also and you don't lose any functionality on the go.
Section view on mobile
Just tap on any of your sections and it will take you to a page view inside of each section.
Once you're inside the page view, just tap on the pencil and you can get to drawing or editing!
Hopefully this tutorial helps some of you out on setting up your own bonsai album. Feel free to message me if you have any questions or need any help on it. Its the least I can do for all the help this community has given me the past year.