Nuttier than your average Nut
Messages

11,868
Reaction score

25,725
Location
USDA Zone

8a
Today I've got a surprise for everyone, but first I wanted to let you know about my experience with an old/new Japanese bonsai and ikebana tool company -
Wazakura Japan
. I say old/new because while the company is relatively new (founded in 2019), it sells craftsman built tools from established artisans, some of whom represent three generations of experience. The company was created to increase accessibility to quality bonsai tools, while supporting traditional Japanese craftsmen and craftsmanship.
I highly recommend you
check out their web site
. In addition to their storefront, they have a wealth of information about the artisans, a bonsai blog, and a library of bonsai videos!
Because I didn't know much about the company, I ordered a couple of tools to review. I use long-handled scissors more than any other tool, and am rather particular about what I feel comfortable with, so I ordered one of their 8.25" "twig bonsai scissors". Then, because I know how difficult they are to make, I ordered one of their 8.25" "knob branch cutters". I thought the prices were very reasonable for hand-forged bonsai tools.
Both tools arrived in bubble envelopes, and each came in a plastic wrapped black gift box. It was a high quality unboxing experience - very suitable if you were gifting someone a tool.
The premium experience continued as I opened the boxes. Both tools were well-packaged, and came with an information brochure.
It is important to note that these tools came from two different shops. The scissors came from Mr. Shige, and the knob cutters came from Mr. Yuki. However the finish was quite similar. Both tools had a light protective coating of oil that I wiped off prior to taking the photos. On first impression:
The scissors were VERY sharp. Rivet was tight and the action was smooth. Tips met cleanly with a very minor overbite (which is what you want). Felt good in palm, and the finish was slightly rough so they didn't slip.
Knob cutters had interesting handles that gave you better grip during firmer cuts. Nice rough finish - almost like a powder coat. Tight rivet. The jaws met exactly with no overbite. Very sharp.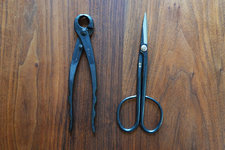 Here is another image with the tools opened. Very nice quality.
"But do they work", you ask? Well... I didn't have any major work on the agenda today, so I took the scissors out and snipped up some azaleas. Very sharp and clean. The long handle allowed me to get into the interior of the plants, and the tight tip allowed nice detail work. I use scissors a lot and found myself smiling using these.
When I said the knob cutter jaws met exactly with no overbite, this is what I meant. You can barely see the seam where the jaws meet.
Looking for a volunteer to prune, I had to resort to a landscape pine. The sharp jaws sliced through this branch pretty effortlessly.
You can see the cleanliness of the cut. Note the edges - how they are cut cleanly without crushing. Also note how there is no seam in the middle of the cut - because the jaws fit together so closely.
All in all, I love these tools and I can recommend them to anyone shopping for a good set of Japanese quality bonsai tools. Too bad I don't get to keep them, because... I will be giving them away!
I am announcing a new affiliate marketing program for Bonsai Nut! If you click on any of the links on this site, and decide to purchase some tools from Wazakura Japan, you will be helping to support the web site!
Also, I will be having a couple of fun contests over the next couple of months, where the winner of each contest will get one of the tools in this review. So stay tuned!! Thank you to our friends at Wazakura for the awards. Time to start holiday shopping!
Wazakura Bonsai Tools
.
Last edited: