Messages

951
Reaction score

2,479
Location
USDA Zone

5
This is the biggest tree that I have collected yet. I have found that digging the tree is often the easy part but getting it back to the truck is by far the hardest part at times. This one was on a steep slope that is difficult enough to walk on without a tree in tow. A friend helped on this and we really needed a third guy but managed it after a lot of grunts and sweat along with a few falls.
I think I appreciate the tree more than I would have if it was an easy collection but I am not rushing out to collect another monster. Although I do love big trees and I think White Cedars are best as large trees because it helps to scale in the foliage.
Below are some tips that have worked for me collecting White Cedar:
1. Soaking the root ball overnight on the day of collection helps
2. Try and remove a majority of the field soil but not all (more than other conifers)
3. You need to collect enough root (leave the tree if you don't think you can get alot of roots)
4. Put the collected tree in as small as a box as you can with lots of drainage and cover surface with sphagnum. It should be hard to squeeze into the box and not "roomy"
Thoughts? Ideas on how to not screw up this tree?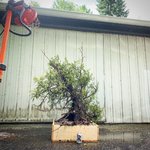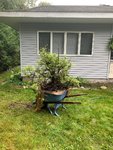 Last edited: