Messages

2,484
Reaction score

3,599
Location
USDA Zone

6a
This is a bush on the grounds of the local arts center. Grows in all sorts of scraggly corkscrews.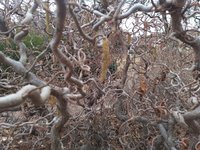 I grabbed a cutting out of the pile when I was walking by one day and the gardener had been cleaning it up, along with one from the nearby Mormon tea bush. Both are starting to bud now!
LeafSnap suggests a hazel of some sort, but the rest of garden there is mostly local Colorado natives, so I'm not so sure.
I know it'll be tough with no foliage the see, but curiosity got the best of me today. Maybe those flowers/seeds will help. If no joy, I'll update as soon as there's leaves.