Messages

401
Reaction score

796
Location
Last week I purchased this Scots pine. It was collected last spring in France. It's in good health, loads of buds popping up, even in the interior of the canopy. What attracted me was the nice movement in the base, deadwood and the long, elegant trunk. There are a lot of finer branches to work with.
This is my preferred front:
I'd like to tilt it a bit more to the left to create a more dramatic effect. The lowest branch could make a nice feature, accentuating the movement of the whole tree.
I was wondering if there are guidelines concerning the direction in which bonsai should be styled. Almost all of my slanting style trees move from left to right...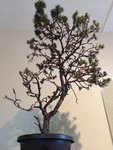 This could also work as a front, but then I'd have to bend the lowest branch behind the main trunk. So I'll probably go with the other front.
The base of the proposed front:
Small needles and lots of buds:
Styling will probably be done next year. First I'll let it recover and maybe keep the foliage a bit in check.