Messages

514
Reaction score

508
Location
USDA Zone

5a
So when I first built/dug my garden ponds I planted lots of accent junipers and misc evergreens. Living in one of many lands of ice and snow I wanted year round color, hence my natural love of evergreens. These have been growing for years unattended. I need to trim them down regardless this year for the look of my garden. I am all for collecting any that upon closer thinned inspection would have decent trunks for bonsai.
@Brian Van Fleet
I'm curious how you would move forward with these? I'm ok with a any year plan to maximize successful collection. I had one last year I just dug out without touching the foliage, probably planted in a pond basket in napa 8822. Guaranteed I underwatered it and put it in too small a container (pond basket vs larger grow box). I didn't really bareroot so the the DE (napa8822) should've been sufficient enough for it to live I would think, given my limited experience.
Also
@sawgrass
I'm curious what you would try with any of these? For both of you keep in mind I'm in zone 5 (near border of zone 4, but temps last decade holding to zone 5 here) so my growing season is shorter than yours.
There is only one of these that I will need to be careful in the collection of as it is planted really close to my 2" Flex Pvc pipe that supplies water to the upper pond/stream (I recently checked this as I thought my water loss was too much for the cold weather, till I found nothing and had to accept I have a lot of moving water with a lot of spray/splash off that leads to water loss).
If you recognize the variety of juniper on any of these (I know unlikely, given lack of up close foliage pics) please share:
Juniper #1
Juniper #2, this is the largest, probably 4' plus accross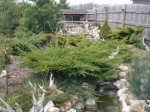 Juniper #3