Messages

5,636
Reaction score

10,914
Location
USDA Zone

9?
Just thought some might be interested to see a little patch of USA Down Under.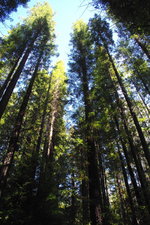 We came across this stand of redwoods in a pine plantation near here. Probably about 5 acres of what I think are Coast redwood?
The locals call it the magic forest.
Not sure how fast redwood grows but some of these have trunks around 4' diameter so they were planted some time ago.
The plantations were established on land degraded by gold mining from 1930s through to 1950s
Most other plantings are now pinus radiata. There were also a few patches of Douglas fir but I think most of those have been harvested or destroyed by fire and replanted with pine.