So I have a dilemma, and it doesn't hurt to get opinions. I've spoken to Bobby about this a bit, as much as he is sick of it (I don't care
).
This CE has been
ground grown for the last 3 years
. It was
dug up at the end of February
, I wouldn't have said a lot of roots were cut off. It has grown to about 10ft tall. Like so..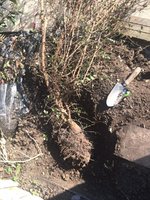 In terms of energy, it should be bursting with it.
It is now coming to the end of May and has yet to put out a single leaf.. That's not quite true, I see a few little random leaves but they aren't proper ones. It has buds, everywhere, loads of buds set. But refuses to grow.
The factors:
Chinese Elm
Its grown unabetted for 3 years in the ground.
The weather has been the WORST May since records began (in UK).
Other CE in pots were late, with my last just popping now. So this tree is officially the last.
I have scratched many a branch and all green, from the base twigs, to the top branches.
At the moment, the most likely cause, is the weather in my opinion. Combined with digging it up, its sulking. Massively.
So, what would you do?