Messages

815
Reaction score

1,488
USDA Zone

9b
Starting a separate thread following on from my discussion with
@Shibui
regarding my misbehaving Chinese elm.
I have a number of deciduous trees that aren't losing their leaves, or are behaving strangely. It's the middle of winter in the Southern Hemisphere and some trees haven't lost their leaves or are actively pushing growth (albeit minimally).
My general question is how do I treat these plants? Most of them I'd like to repot in spring, but am unsure how to go about this if they're either not dormant, or are already pushing some new growth?
I have many other deciduous trees (JM, tridents, crepe myrtle) which have all gone dormant. Our winter temps this year have been mild, just above freezing at night and 18-20° C (65F-68F) during the day.
First up is this Chinese elm. It grew ok in terms of extension, but constantly had yellowing leaves that would fall off leaving only minimal leaves right at the end of its extended shoots. This is it today, still holding on to its few greenish leaves.
Next up are 2 flowering quinces. The one is an air layer I took off the mother plant last season. I battled spider mites all season on all of my flowering quinces, with this one loosing all of its leaves towards the end of the season, but has now started leafing out again and is flowering too for the last 2 months. The mother plant is acting similarly, still pushing new growth in the middle of winter!
The mother plant. (Don't mind the perlite, it's a top layer until I can repot it after some soil was lost recently)
Here's another flowering quince that lost all of its foliage towards the end of the season, mostly due to spider mite damage. It too is pushing some new growth in places. You can see 3 leaves on one branch and there are new buds pushing in multiple places.
Here's a small root cutting from the first elm. This one (and it's 2 similar siblings) have at least turned colour (the 2 other ones are bright red), but is still holding onto it's foliage in the middle of winter!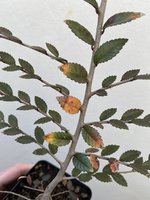 Lastly a JM that started pushing 2 new shoots in autumn, but has gone dormant over the rest of the tree. What do I do with these tender new shoots?