Messages

1,559
Reaction score

1,636
Location
USDA Zone

9b
In "The Eighth Day" Thornton Wilder had this to say about "hope."
So defenseless is hope before the court of reason that it stands in constant need of fashioning its own confirmations.
Well, I don't think there IS any hope for this tree. Just grasping at whatever straws MIGHT be applicable.
This is the baked pine:
;
Purty bad, huh? Today I took off ...all.. the wire.
(Probably in consideration of the garden waste removal place)
Shit, it only took several fewer days and hours to take the crap OFF!
My question to the forum is whether
ANYTHING
would be something
ELSE
to do. Pulling on the dead needles, some of the entire tuft pulled off. On others, they are held fast.
As you can see, there is still a
SMIDGEN
of life somewhere in that log. I have no illusions that ...I... will live to see any results but possibly whoever manages to get stuck with the thing
might have time to make at least a
LIVE TREE
out of it. Somewhere over the rainbow.
In stupid HOPE and desperation, I am posting some pix. Some have possible cuts. Some just focus on what small bit is green. ...ish.
If you have the inclination, take a look, get pissed, and toss out anything you might have in your repertoire.
Be as brutal as you want. I don't have any real hope that it can even be saved. In ANY shape.
Here goes: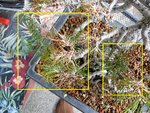 Well.... You get the drift.
Apologies for taking your time.
Anything to add except suggesting a bare root repot would be nice.