Messages

5,253
Reaction score

8,289
Location
USDA Zone

7
On the fakebook I spotted a decent deal for a crapapple. As I have one crappy one which I was contemplating getting rid off, I thought this might be the replacement I was looking for. So.. Made the deal. Asked for shipping. And waited.
Monday it arrived. Unfortunately.. During shipment it had a mishap. THe seller told me it was wrapped well and the mail comp must have played basketball with it. The mail service sais they would have put a label on it, had they damaged it. In any case.. I have a bruised tree...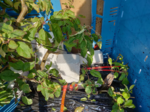 In any case.. The tree-legged lady, repotted as it had come loose in the pot, and the substrate was just compost; after teasing everything out of the rubble and spending an hour correcting the roots..