Messages

5,094
Reaction score

9,683
Location
USDA Zone

9?
Today I dug the last of the tridents from the grow beds, including these experimental plaited trunks.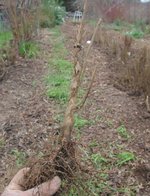 The trunks have certainly fused in just one year of ground growing. They also have 'character with lots of bulges and veins as part of the trunks. The bigger questions are whether the results are attractive and whether it is a viable technique to create trident maple trunks for bonsai.
note that most of these were created with more than 3 trunks. I was wary of creating a long trunk with little taper so started with up to 16 thin seedlings. As they were plaited together I left a few trunks out at each turn so the top was thinner than the base however there's still not as much taper as I'd hoped.
One thing I did not foresee was this
I tied the tops together with jute twine last winter to stop the stems unravelling, thinking the twine would rot away well before causing any problems. seems these tridents grew faster than the twine rotted because most have some bulging at the top where they were tied.
I intend to plant most of these back in the grow beds for another year of growth to see if extra time will improve them.
Does anyone have better results to report?