Messages

470
Reaction score

353
Location
USDA Zone

10a
No don't worry it's not me dancing...here's a bougie that my landlord let me dig from the backyard, it's a big'n.
Had this in a 10 gallon nursery pot for a few years and just repotted/shoehorned into a completely mismatched pot. There was a lot of rot where deadwood was touching the soil so I scraped out as much as I could to leave a pretty cool hollow.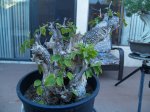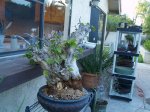 Not sure what happened with the last pic.
Will see how it settles in over the summer and then if all is well get the carving bits out and make it rain bougie shavings.