Messages

2,315
Reaction score

2,821
Location
USDA Zone

7A
i mentioned i got seeds from this tree not long ago. theyre in my fridge (...im just throwing all of these and others into soil after a few days of h20 in december or january, LED light whatever sprouts)
nice to see my state tax money working until 6pm ish (i guess??)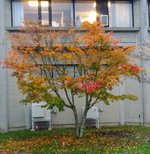 the ginkgo is really nice, and two bald cypress behind it as well. 30' ginkgo maybe 75' BC.
i like how the dropped foliage looks like the tree is illuminating the ground under it (i was as blazed as that sounds). the buildings have a lot of glass panels and really nice houseplant tropicals all throughout, and tons of nice trees on this campus, 2 mins from my house.
Revered for its beauty and its longevity, the ginkgo is a living fossil, unchanged for more than 200 million years. Botanist Peter Crane, who has a written what he calls a biography of this unique tree, talks to Yale Environment 360 about the inspiring history and cultural significance of the...
e360.yale.edu
not sure what this is, but i dig the profile