Messages

2,879
Reaction score

5,502
Location
USDA Zone

8b
Hello One and All!
This I my first special request for an identification. Please help if you can.
Situation: Small cluster dug up on friends ye olde farmstead.
Tree was positioned between a big flowering quince and a flowering plum tree with bronze leaves. Apple orchard and a Pear tree within stones throw. Also assorted rhodies, hazelnut, azalea, chokecherry and red flowering current near by.
Quick bend event with a piece of discarded wire revels it's stiff, yet doable on multi year wood. Looks like maybe Roseaceae like 'scars' low on trunk.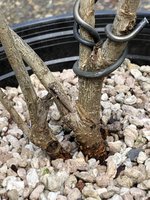 Mystery tree...! Wait until flower?
Anyways thanks for any ideas. Hate to ask, yet I know there are some ID Jedi's out there!
Cheers
DSD sends