Messages

1,550
Reaction score

5,276
Location
USDA Zone

8
…what a time to be alive!
This Weyerhaeuser nursery in Oregon produces 11 million seedlings each year. They're sold in bags of 80–200; here's what you see when opening a bag of 125 Western Hemlock: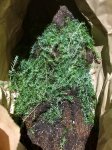 Our friend
@Vance Wood
has bemoaned that the nursery trades do not make these species readily available across the US. I might very well change that through this experiment (read: fools' errand).
The seedlings net out to about $0.60 each and come in a "plug" form: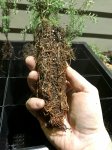 After labor and materials, costs quickly grow to at least $2.75 each. Here I am in the middle of transplanting them to 4" square by 5" deep banded pots in propagation trays. In 2018 they will be transplanted into 1–3 gallon pots and receive some initial root work: (otherwise the nebari will be grossly twisted and crossed)
I also bought a 100-seedling bag of Douglas-fir. I separated the larger individuals into 10" pond baskets. Here, the soil mix is readily visible—perlite, composted bark, diatomite gravel, and pumice. The airy mix drains well, which is critical in this Pacific Northwest marine climate! (Also: perlite is damned cheap; I am crying inside about the 15 gallons of sifted bonsai soil consumed by this endeavor.)
Mid-sized Douglas-fir went into my surplus 1-gallon pots: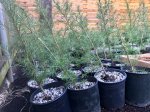 The seedlings will sit and recover in a shady spot of my yard for the next 6 weeks or so. After they show vigor I will perform preliminary pruning and wiring to set initial styles. At left is a Sango-kaku Japanese maple in training; it has many years to go before it is show-ready.
I intend to make some of these available for sale as soon as fall 2017
The nursery also has bags of Sitka spruce and Coastal redwood available. Is anybody interested in those?
Last edited: