Messages

149
Reaction score

227
Location
USDA Zone

5
Hi Everyone,
I've posted in dribs and drabs since coming back to Bonsai this year, and now I'd like to put everything I've got going out there and see what you all have to say.
Any advice and criticism would be most appreciated
This first pic is a scotty I grew from a seedling my first time around. I had no idea what I was doing, and as you can see, I let the wire bite in too long. Still, this guy survived several years of neglect and Michigan winters, so he's my favorite. I'm hoping to do better by my next crop…
This leads to my next pic. I got 21 scotts and 21 mugo from a nursery in Washington. Should I cut back this year, or let them grow for a while? I never cut back on my previous Scotts, and I ended up with several knuckles, but I don't want to cut if it's too soon. Same question on wiring. My inclination is to wait a year. What do you think?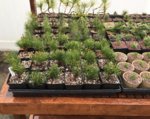 I also ordered a big batch of JBP seedlings from Johnsteen's. I was a bit disappointed, as each had nearly ten inches of bare trunk before the growth begins. As you can see, I wired most of them, but I'm not sure what to expect in the future. I've been reading Jonas's back catalog from the blog, and his stock and mine don't have a lot in common. What would you guys do?
Last are my cuttings. I have shimpaku, procumbens, JWP, and scotts. Most everything has a thin layer of granite top dressing to hold the media below in place. I did a bit of experimenting, as I've never grown cuttings (not counting the jade leaves I've stuck in potting soil for my third-graders). One third are in straight perlite, another third are in straight turface, and the final third are in a 50/50 mix of the two. They all got a dip in rooting hormone. Half got a straight cut to expose the cambium, and the rest got a gentle ¼ peel at the end with a sharp xacto. Predictions?
Thanks in advance for your comments! I've really enjoyed sharing in your progress during my time lurking on this site, but I rarely commented because I'm still learning and I didn't think I had anything to add. Hopefully that will change as my little guys grow and develop.
Cheers,
Paul