Messages

1,308
Reaction score

4,052
Location
USDA Zone

9a
April 2012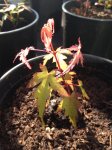 Collected as a seedling in Portland, OR.
May 2013
Basic wire training.
April 2014
It continues to be my most productive seedling. I upgraded it from a 1 to 2 gallon pot; to the left is a white birch volunteer.
June 2014
One of the growth tips would get a fungal infection the coming winter. The other tip snapped off from wind.
October 2015
Repotted in spring 2015. Fed with Osmocote 14-14-14, humic acid, granulated azomite, and iron.
December 2015
After aggressive pruning for structure and taper. More pruning will probably follow in the spring, but this was cautious to allow for dieback.
Updates will come as possible. I plan to try growing this out into an informal broom form.