Messages

2,370
Reaction score

5,653
Location
USDA Zone

9b
At the Shohin Convention last month I bought a few crabapples to play with - one of them appears to be dead, not dormant! Oops.
Anyway, the two that are supposed to have white flowers are leafing out now. They're kind of ridiculous looking - a squat trunk with long straight upward shooting branches and a thin "flat top" layer of twigs/buds at their ends. Somebody had the right idea and cut them back at some point, but not nearly hard enough. Adding leaves is not really helping that image much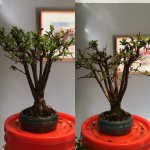 I haven't worked with crabapples before, and I've been wanting to try them out, so I grabbed these, looking at them as stock, not bonsai . . . yet.
You can guess what happened next: